The Portoveyor™ Bulk Bag Unloader can benefit material handling applications throughout a variety of industries.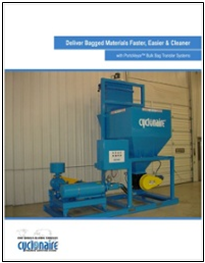 The PortoVeyor™ Bulk Bag Unloader system can deliver bagged materials faster, easier and cleaner. This innovative, portable transfer system makes it simple to maintain productive and efficient operations when using bulk bags.
It is the ideal solution for a wide variety of materials (from cement to food products) in powder, pellet, or granular form.
The PortoVeyor™ is one of the many outstanding material transfer systems offered by Cyclonaire. Understanding how to incorporate this system into your current material transfer operations is explained in this new eBook.
For more information, fill out the form on the right to download your free copy.