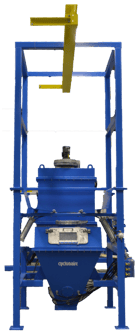 Bulk Bag Unloader Technical Guide
The right material handling solution can greatly enhance the efficiency of your operations—and Cyclonaire's Bulk Bag Unloader is no different.
Equipped with a simple, easily customizable design, the Bulk Bag Unloader ensures safe handling and clean unloading of any free-flowing, dry bulk material in bags. It is the most flexible choice for demanding needs and cost-conscious budgets.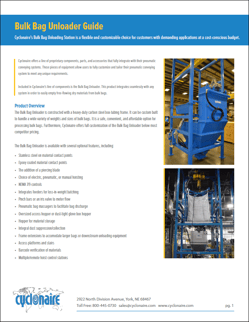 To learn how the Bulk Bag Unloader can meet your needs, we encourage you to download our Bulk Bag Unloader Technical Guide. This resource reviews the standard features of the Bulk Bag Unloader and discusses how this component can successfully support even the most demanding, heavy-duty applications.
For more information, please complete the form to the right to obtain your free copy of our Bulk Bag Unloader Technical Guide.